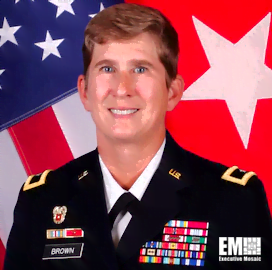 BG Jacqueline "Denise" Brown
Director, J6 Command, Control, Communications and Cyber
U.S. Indo-Pacific Command
Brigadier General Jacqueline (Denise) Brown reported as the U.S. INDOPACOM Director J6 in January 2021.

BG Brown was born in Biloxi, Mississippi, and grew up predominantly in Austell, Georgia. She received her commission into the United States Army in 1992 from Georgia Southern University, where she graduated as a Distinguished Military Graduate with a Bachelor of Business Administration in Production and Operations Management. She also holds master's degrees in Telecommunication Management from Webster University and in Strategic Studies from the United States Army War College. She is a graduate of the Army Command Staff College, Fort Leavenworth, Kansas.

Prior to joining U.S. INDOPACOM, BG Brown served in Department of the Army, Office of the Chief Information Officer (CIO/G-6) as the Executive Officer to the CIO/G-6. Additionally, she served as the Plans and Strategy Division Chief within the Army CIO/G-6. Prior to CIO/G-6, COL Brown commanded the Defense Information Systems Agency Europe Field Command, at Headquarters, U.S. European Command, Stuttgart, Germany, from July 2014 to July 2016. Her previous command and staff assignments included J6 Branch Chief, Joint Chiefs of Staff, Pentagon, Washington, D.C.; Commander, 307th Integrated Theater Signal Battalion, Fort Shafter, Hawaii, where she led the transformation of the Battalion to an Expeditionary Signal Battalion and its deployment to Afghanistan in support of Operation ENDURING FREEDOM in 2010; Chief of Operations and Plans G6, III Corps, Fort Hood, Texas; S3 Operations Officer, 3rd Signal Brigade, Fort Hood, Texas, during Operation IRAQI FREEDOM II; S3 Operations Officer, 57th Signal Battalion, 3rd Signal Brigade, Fort Hood, Texas, during Operation IRAQI FREEDOM 06-08; Brigade Signal Officer and Observer/Controller-Trainer, 5th Training Support Brigade, 78th Infantry Division, Fort Meade, Maryland; and multiple positions in the 4th Infantry Division and 3rd Signal Brigade, Fort Hood, Texas. She began her Army career with the 6th Signal Battalion, Fort Richardson, Alaska, where she held several company-level leadership positions, and was later the Battalion Signal Officer in the 106th Military Intelligence Battalion.

BG Brown's awards and decorations include the Bronze Star Medal (with 1 Oak Leaf Cluster (OLC)), the Defense Superior Service Medal, the Defense Meritorious Service Medal, the Meritorious Service Medal (with 4 OLCs), the Army Commendation Medal (with 2 OLCs), the Army Achievement Medal (with 1 OLC)), the Meritorious Unit Citation (with 1 OLC), the National Defense Service Medal, the Afghanistan Campaign Medal, the Iraq Campaign Medal, the Global War On Terrorism Expeditionary Medal, the Global War on Terrorism Service Medal, the Army Service Ribbon, the Joint Meritorious Unit Award, the NATO International Security Assistance Force Medal, and the Overseas Service Ribbon (with 4 Tours).