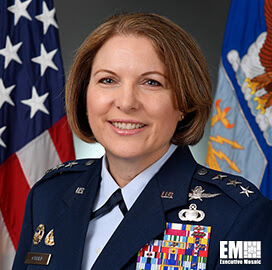 Lt. Gen. Mary O'Brien
Director of C4 and Cyber, and Chief Information Officer, J6
U.S. Department of the Air Force
Lt. Gen. Mary F. O'Brien is the Director of Command, Control, Communications and Computer (C4)/Cyber, and Chief Information Officer, J6, Joint Staff, the Pentagon, Arlington, Virginia. She develops C4 capabilities, conducts analysis and assessments, provides Joint and Combined Force C4 guidance, and evaluates C4 requirements, plans, programs and strategies for the Chairman of the Joint Chiefs of Staff.

Lt. Gen. O'Brien received her commission upon graduation from the U.S. Air Force Academy with a Bachelor of Science in chemistry. She has served in a variety of command and staff assignments. Her commands include the 22nd Intelligence Squadron, Fort George G. Meade, Maryland; 691st Intelligence, Surveillance and Reconnaissance Group, Royal Air Force Menwith Hill, United Kingdom; 70th ISR Wing, Fort George G. Meade; and Twenty-Fifth Air Force, Joint Base San Antonio-Lackland, Texas. Lt. Gen. O'Brien has also served in numerous staff leadership positions including the Joint Staff, the Office of the Secretary of the Air Force Legislative Liaison, Headquarters U.S. Air Force and Air Force Space Command and served as the U.S. Cyber Command Director of Intelligence.

Prior to her current assignment, she served as Deputy Chief of Staff for ISR and Cyber Effects Operations, Headquarters U.S. Air Force, responsible to the Secretary and Air Force Chief of Staff for policy formulation, planning, evaluation, oversight and leadership of Air Force intelligence, surveillance and reconnaissance, cyber effects operations, and electromagnetic spectrum superiority capabilities.

In October 2019, Lt. Gen. O'Brien volunteered to serve as the general officer champion for the Women's Initiative Team. The WIT is a Department of the Air Force Barrier Analysis Working Group charged with identifying barriers to women's service and advocate for policy changes to eliminate those barriers.