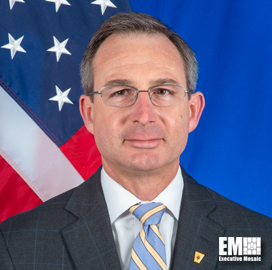 Michael Mestrovich
Principal Deputy Chief Information Officer
U.S. Department of State
Michael H. Mestrovich, a member of the Senior Intelligence Service, is the Principal Deputy Chief Information Officer for the U.S. Department of State. In this capacity, he is responsible for managing all IT operations under the purview of the Bureau of Information Resource Management. These responsibilities include Information Assurance, Business Management and Planning, Operations and Foreign Operations. Mr. Mestrovich directly supervises the Office of External Affairs (EA), the Strategic Communications Management (SCM) unit, and the Cloud Program Management Office (CPMO).

Mr. Mestrovich previously served as the Director, Technical Services Office at the Central Intelligence Agency. His prior roles include Technical Director, Global Communication Services, Chief Architect for the Intelligence Community Desktop Joint Program Management Office, Senior Technology Officer for Solutions, and the Senior Technology Officer for Innovation. Mr. Mestrovich served in the U.S. Air Force from 1991-1997 and worked as a systems engineer for Cisco Systems from 1997-2008. He was appointed to the Defense Intelligence Senior Level in 2008.

He holds a Bachelor of Science from University of Notre Dame and a Master of Science in atmospheric science from Creighton University. He is the recipient of the Cisco Certified Internetworking Expert certification and is a 2012 Federal Top 100 Award winner.