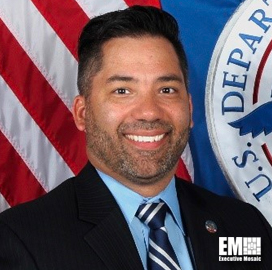 Sam Vazquez
Acting CIO
U.S. Cybersecurity & Infrastructure Security Agency (CISA)
Samuel Vazquez assumed the role of acting Chief Information Officer (CIO) for the Department of Homeland Security's (DHS') Cybersecurity and Infrastructure Security Agency (CISA) in October 2020. Prior to the CIO role, Vazquez was the Associate Chief for CISA's Office of the Chief Information Officer (OCIO) Information Technology (IT) Operations and Service Management, a position he held since 2015.

Vazquez has been instrumental in shaping the CISA OCIO Operations subdivision as it addresses the ever-growing complexities of CISA's missions. He refined and expanded operational support processes to improve service delivery throughout the contiguous United States and built a staff of IT experts to forward the OCIO mission. He developed policy, procedures, and standards for the continual improvement of CISA IT Operations productivity, network security posture, reliability, and service delivery. Vazquez also recommends and institutes cybersecurity policies in support of long-term strategies and solutions. Finally, he provides technical input on emerging technologies and makes recommendations concerning their impact on current systems and their security accreditation.

Before stepping into the Associate Chief role, Vazquez served as the Deputy Associate Chief of IT Operations and Service Management beginning in 2010. During his tenure, he was responsible for the development of new IT buildout processes, the transition to new service delivery contracts, and the development of a customer advocacy program to improve OCIO support for CISA's predecessor organization, the National Protection and Programs Directorate (NPPD). He was the lead project manager for the NPPD devolution site in Pensacola, Florida.

Vazquez joined DHS in 2009, first supporting the NPPD Cyber Security and Communications (CS&C) Federal Network Security (FNS) branch, where he developed analytical and evaluation methods to certify the confidentiality, integrity, and availability of critical .GOV networks and ensured their compliance with applicable regulations.