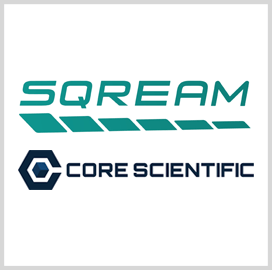 SQream, Core Scientific Partner to Deliver New Big Data Analytics Solution
SQream Technologies, a data warehouse technology developer, has partnered with artificial intelligence company Core Scientific. 
In a press release, SQream said it plans to create solutions that would enable accelerated analytics of massive data on the GPU Cloud for Data Scientists.
"SQream running on the Cloud for Data Scientists empowers customers to turns massive datasets into more comprehensive and timely insights that have a direct impact on business performance," said Ian Ferreria, Core Scientific's chief product officer.
The partnership will deliver cost-effective accelerated analytics for machine learning and deep learning applications used by telecom operators, financial services, health care organizations and pharmaceutical companies, among others, SQream said.
SQream CEO Ami Gal partnership will make the company's SQream DB offering more accessible to organizations in the business of data analysis.
Gal said the combination of SQream DB and Core Scientific's near-cloud infrastructure will help their customers grow their business through better performance, scale and functionality.
SQream DB was designed to allow enterprises to up to petabytes of data for analysis while generating high-quality business intelligence, the company said. 
Core Scientific developed Cloud for Data Scientists as a solution for delivering the benefits of the public cloud with the benefits of co-location.
SQcream is an information technology and services company based in New York. It specializes in analytics, big data, genome research, finance, internet of things, telecom, GPU, database, data science and financial services, according to the company's LinkedIn profile.
Core Scientific is an AI and blockchain technology company based in Bellevue, Washington. It specializes in data center buildouts, digital currency, mining co-location, machine learning, blockchain hosting and AI hosting.
Category: Partnerships and Executive Moves
Tags: Ami Gal artificial intelligence blockchain Core Scientific deep learning GPU Cloud HPC Wire Ian Ferreria machine learning Partnerships and Executive Moves SQream