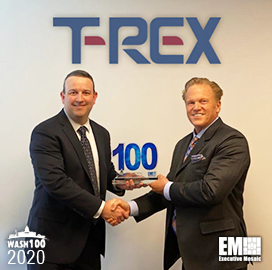 Seth Moore and
Jim Garrettson
T-Rex Solutions CEO Seth Moore Bags First Wash100 Award
T-Rex Solutions CEO Seth Moore has received his first Wash100 award from Executive Mosaic, an international leadership organization that acknowledges influential individuals in the government contracting sector.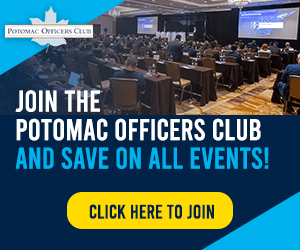 Jim Garrettson, founder and CEO of Executive Mosaic, presented Moore with the award in recognition of his success in improving T-Rex's sustainment and expansion, as well as its strides in cloud technology and integration, GovCon Wire reported.
T-Rex is an information technology and services company that specializes in cloud adoption, cybersecurity and data analytics.
Under Moore's leadership, the company enjoyed a growth period where it saw an increase of 550 percent in revenue. He has continued to expand T-Rex's IT consulting practice since he joined the company in 2019.
Bloomberg Government identified T-Rex as the top cloud service provider in the federal civilian space in a report titled "The State of Federal Cloud."
In a July 2019 interview with CIOReview, Moore said T-Rex Solutions helps government clients advance their IT transformation efforts by providing them with an enterprise road map to identify which applications should be moved to the cloud. 
"With the customer's business objective in mind, we carry out application rationalization by determining where functional redundancies exist and how best to achieve economies through rehosting, refactoring, retiring, retaining, or repurchase," he added.
Wash100 is an annual selection of the most influential personalities in government contracting. The award honors executives and government officials who have demonstrated skills in leadership, innovation, reliability, achievement and vision in the sector.
The recipients of the award are determined through nominations from the government contracting community and the discretion of the Executive Mosaic team.
Category: Member News
Tags: CEO cloud cybersecurity data analytics Executive Mosaic govcon government contracting information technology IT Member News Seth Moore T-Rex Solutions The State of Federal Cloud Wash100