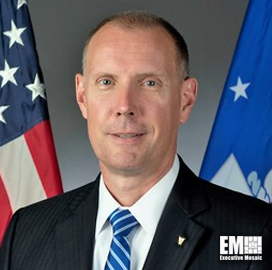 Timothy Applegate
Timothy Applegate, Director of Air Force's Acquisition Management, Integration Center
Timothy Applegate serves as the director of the Air Force's Acquisition Management and Integration Center, located at Joint Base Langley-Eutis in Hampton, Virginia.
Applegate is responsible for an acquisition portfolio worth over $15B, leveraging over 32 years of experience in acquisition and contracting. He also serves as the accounting senior business and technical manager for all military acquisitions, the Air Force said.
The retired colonel is a member of the Defense Acquisition Corps and has a Level III certification under the Defense Acquisition Workforce Improvement Act. Applegate also sits on the National Contract Management Association's board of directors. 
The scope of his acquisition duties includes major operations and maintenance programs, command advisory and assistance services and command strategic sourcing. 
His other leadership responsibilities include cradle-to-grave acquisition, program management and weapon systems operations in support of Global Hawk/Reaper remotely piloted aircraft maintenance and War Reserve Materiel.
Applegate also handles programs such as the Combat Air Forces Contracted Air Support, Counter Narcotic & Global Threats, Counterdrug Forward Operating Locations, Nellis Backshop and T-38 Aircraft Maintenance Programs, North Warning System, Precision Measurement and Equipment Laboratories, Aerial Targets and other multi-functional programs.
Before he assumed his current role, Applegate served as the director of the Defense Advanced Research Project Agency's Contracts Management Office. In the said role, he fulfilled the duties of the senior procurement executive and the head of contracting activity for all DARPA acquisition issues. 
Applegate earned a master's degree in national resource strategy from the Industrial College of the Armed Forces, a master's degree in procurement and acquisition management from Webster University and a bachelor's degree in human factors engineering from the U.S. Air Force Academy.
He also took leadership and acquisition courses at the Defense Acquisition University and Federal Executive Institute.
Category: Executive Profiles
Tags: Acquisition Management and Integration Center Director Executive Profiles Headquarters Air Combat Command Senior Executive Service Timothy Applegate U.S. Air Force