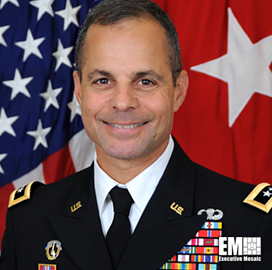 Tony Ierardi,
Chief of Staff,
Rebellion Defense
Tony Ierardi, Chief of Staff at Rebellion Defense
Retired U.S. Army Lt. Gen. Tony Ierardi serves as the chief of staff at Rebellion Defense, a software development company based in Washington, D.C.
Rebellion said it uses artificial intelligence and machine learning techniques to build software for the U.S. national defense community and its international allies.
Ierardi joined Rebellion in August 2019 to play a leadership role in strategic partner engagement. He served in a diverse set of Army and joint unit assignments throughout his 37-year military career, Rebellion said.
He commanded the First Cavalry Division at Fort Hood in Texas. Ierardi was also deployed in support of Operation Enduring Freedom as deputy commander for programs for Combined Security Transition Command-Afghanistan.
Rebellion said Ierardi was also deployed as part of the Second Armored Cavalry Regiment in Operation Desert Storm.
His military stint culminated in his assignment as the Joint Staff's J-8 director, tasked with overseeing analytic assessments for the Joint Chiefs of Staff. In the said role, he was also responsible for matters related to current and future requirements for forces, capabilities, budgets and resources for the joint force.
Ierardi earned a bachelor's degree in business from Washington and Lee University, a master's degree in national security studies from the U.S. Naval War College and a master's degree in Latin American studies from Georgetown University, according to his LinkedIn profile.
Category: Executive Profiles
Tags: artificial intelligence Chief of Staff Executive Profiles machine learning military career Rebellion Defense Tony Ierardi