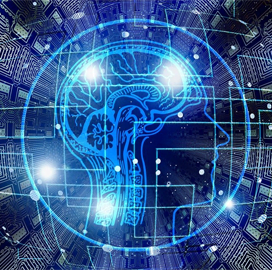 AI
Two Army AI Programs to  Enhance Soldier, Robot Interaction
U.S Army researchers are working on two artificial intelligence programs that are seen to enhance communication between AI systems and soldiers. 
The AI projects, which are expected to improve a warfighter's situational awareness in a mission,  are part of the Army's priority of modernizing combat vehicles that will operate using unmanned and AI-based platforms, C4ISRNET reported Wednesday. 
The first project, called joint understanding and dialogue interface, is an AI network that can receive robot verbal commands from a soldier and understand the instructions. The second one is known as the transparent multi-modal crew interface design, which is developed to interpret to soldiers the actions taken by AI-enabled machines. 
Matthew Marge, a computer scientist at the Army Research Laboratory, said the JUDI program, which is slated for field demonstration in September,  will make soldiers more aware of their environment during combat operations when interacting with robots.  
He added that what makes the system different from the commercially available ones is the degree of understanding the program contains. Off-the-shelf products can recognize human messages and follow orders but are unaware of the events taking place around the person. 
Marge said soldiers should have robots that can analyze their words and the environment they are in at the same time. "So that means the robot has to not only interpret the speech, but also have a good idea of where it is [in] the world, the mapping of its surroundings, and how it represents those surroundings in a way that can relate to what the soldier is saying," he said. 
Brandon Perelman, a research psychologist at the ARL, said the transparent multi-modal crew interface design project focuses on AI-human interaction. His group conducts research on enhancing the AI's ability to convey information in such a way that a soldier will understand the decisions made. "Because we know that … if soldiers don't understand why the AI is doing something and it fails, they're not going to trust it. And if they don't trust it, they're not going to use it," he said.
Category: Future Trends
Tags: AI systems artificial intelligence Brandon Perelman C4ISRNET Future Trend Joint Understanding and Dialogue Interface JUDI Matthew Marge situational awareness Transparent Multi-Modal Crew Interface Designs U.S. Army