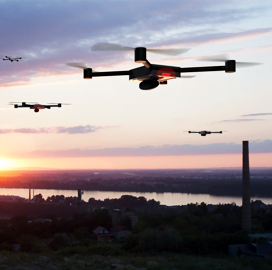 Drone swarm
US Army Demonstrates Strategy to Combat Threat of Small Drones
The U.S. Army and the U.S. Air Force conducted a demonstration of a strategy against small aerial drones during a test at Yuma Proving Ground.
According to one official, the test was focused on counter-small unmanned systems' ability to minimize collateral damage to the surrounding environment, FCW reported.
Leland Browning, deputy director of the Joint C-sUAS Office, said the military is looking for ways to reduce the amount of fragmentation associated with collisions, as well as measures to prevent threats from entering an environment altogether.
One potential solution is "entanglement," where a drone would fall to the ground or be later brought back to a safe area force examination, Browning added.
The test at Yuma, Arizona, involved up to 16 different scenarios, including ones where the counter-drone system was faced with a threat that is flying directly at it, crossing patterns and traveling at various speeds and heights.
In January, the Department of Defense released a C-sUAS strategy in recognition of the increasing danger posed by advancements in drone technology.
The most recent demonstration at Yuma is a test of the said strategy, which directed the Army to lead the effort. The Army partnered with the Air Force because of its expertise in low collateral effects.
The 38-page DOD strategy provided details on three lines of effort: remaining responsive to the needs of combatant commands, protecting combatant commands and their critical assets from drone threats and building an ecosystem of partners to advance counter-drone capabilities.
Sean Gainey, director of the Joint C-sUAS Office, said the military services have already launched a multitude of rapid capability counter-drone efforts but have failed to mature their individual solutions, sometimes resulting in redundancies among projects.
Category: Future Trends
Tags: Air Force Army C-sUAS FCW Future Trends Leland Browning Sean Gainey unmanned Yuma Proving Ground