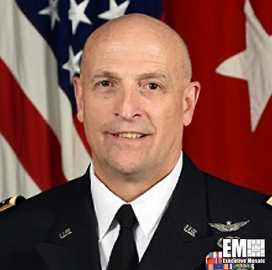 L. Neil Thurgood
Director
Army RCCTO
US Army Seeks to Fight Drone Swarms Using THOR
The Army is looking to use a prototype directed energy weapon called the Tactical High Power Operational Responder to combat enemy drones and other airborne threats.
The THOR system was developed at the Air Force Research Laboratory and is designed to disable the electronics in drones and deal with drone swarms. It has just finished a demonstration at the Kirtland Air Force Base in New Mexico.
Lt. Gen. L. Neil Thurgood, who oversees the Army Rapid Capabilities and Critical Technologies Office, was present at the demonstration and acknowledged THOR's ability to simultaneously engage many targets by non-kinetic means, Air Force .mil reported.
Thurgood, a past Potomac Officers Club event speaker, said the Army's partnership with AFRL kickstarted the service's high-power microwave mission.
The Army intends to use high-power microwaves, which can kill groups or swarms, in concert with single targeting high energy lasers as part of the Indirect Fire Protection Capability rapid prototyping effort.
The THOR weapon meets the Army's requirement to engage multiple targets simultaneously.
THOR program manager Amber Anderson explained that the system generates powerful radio wave bursts, which offer a greater engagement range than bullets or nets.
The RCCTO plans to support the Air Force in the deployment of the THOR weapon to provide a prototype IFPC-High Power Microwave system to a platoon by fiscal year 2024.
However, the THOR weapon must first complete a series of risk reduction and system characterization efforts at Kirtland AFB, along with hands-on soldier touchpoint exercises.
Category: Speaker News
Tags: Air Force .mil Air Force Research Laboratory Amber Anderson counter-drone drone swarms drones Kirtland Air Force Base L. Neil Thurgood Speaker News Tactical High Power Operational Responder THOR