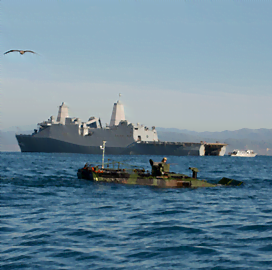 ACV production
US Marine Corps Awards BAE $169M Amphibious Combat Vehicle Production Contract
BAE Systems has secured a $169 million contract from the U.S. Marine Corps for Lot 2 full-rate production of Amphibious Combat Vehicles.
Under the contract, BAE will produce 33 ACVs. The new work adds to a current contract that requires the company to deliver the ACV personnel and the ACV command variants. The contractor also received an order to design and develop a 30-millimeter cannon variant and a recovery vehicle.
The Amphibious Combat Vehicle is capable of conducting ship-to-objective maneuvers and delivering enhanced combat power to Fleet Marine Forces. It is developed in partnership with IVECO Defence Vehicles, BAE said Monday.
John Swift, director of amphibious programs at BAE, said the contract supports the company's goal of supporting USMC's priorities and missions, including Force Design 2030. The Marine Corps is in the process of improving its combat operations to meet a changing threat landscape.
BAE secured its first full-rate ACV production Lot 1 contract option in December 2020 to produce 36 vehicles. In February 2021, the company secured the second contract option to manufacture 36 additional vehicles.
The contractor's ACV team has delivered the 100th low-rate initial production ACV to the Marine Corps and it is slated to complete LRIP deliveries by January 2022.
ACV production is taking place at the contractor's sites in Virginia, California, Michigan, South Carolina and Pennsylvania.
BAE offers technology solutions and platforms to defense organizations. Its offerings cover all domains of the battlefield, from sea to space and cyber.
Category: Future Trends
Tags: amphibious combat vehicles BAE Systems contract award Future Trends John Swift US Marine Corps