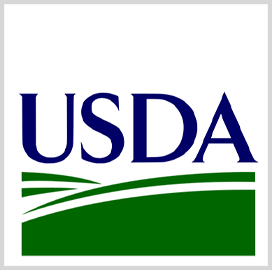 USDA
USDA Awards Cloud Migration Contract to Ryan Consulting Group
The Department of Agriculture has awarded Ryan Consulting Group a contract to provide cloud migration support to the agency's Client Experience Center.
RCG received the contract through the National Institutes of Health Information Technology Acquisition and Assessment Center's $20B Chief Information Officer – Solutions and Partners 3 contract vehicle. 
The contract strengthens the consulting group's continued support and partnership with USDA, RCG President Keith Harding said. 
CEC is an information technology service provider under the department's Office of the Information Officer. The is also an integrated government and contracted program team whose mission is to deliver IT solutions, policies and procedures.
Under the terms of the new deal, RCG will migrate CEC's current on-premise Microsoft Project Web App instance to the Microsoft Project Online 2019 Government Cloud environment. 
The company will deliver technology enhancements and process improvement features to provide a centralized hub for all project data.
According to RCG, the goal is to foster transparency across the department and encourage a single view of the CEC program management portfolio. 
The award is the company's second contract from USDA in recent years. RCG said it has been supporting the department's Agricultural Research Service by performing patch and vulnerability management services for the past three years. 
RCG is an IT and services company based in Indianapolis, Indiana. The company is best known for its capabilities in information assurance, database and system administration, maintenance and sustainment and professional services. 
Category: Popular Voices
Tags: CIO-SP3 Client Experience Center cloud migration Enterprise IT solutions Keith Harding Microsoft Project Online 2019 Government Cloud environment Popular Voices Ryan Consulting Group transparency U.S. Department of Agriculture