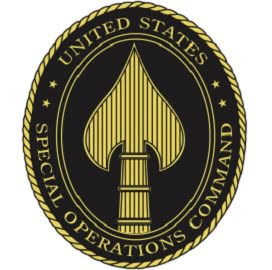 USSOCOM Leveraging AI, ML to Support Mission-Critical Priorities
The U.S. Special Operations Command has been adopting and continuously fostering artificial intelligence and machine learning capabilities in light of extremist threats and in support of mission-critical priorities, including next-gen mobility and intelligence, surveillance, and reconnaissance tech.  
Speaking at the virtual Special Operations Forces Industry Conference, Army Gen. Richard Clarke, commander of USSOCOM, said both AI and ML efforts are being integrated into the command's major program executives as the military continues to engage in a "war for influence" against its adversaries. 
In particular, Clarke noted the importance of AI and ML tools in military information support operations, as these technologies enable the U.S. military to understand the thought process of its adversaries, the National Defense Magazine reported Tuesday.
The USSOCOM has already established a MISO web ops center with allied nations, which Jordanian King Abdullah Il bin Al-Hussein deems important in countering efforts by extremists. King Abdullah told vSOFIC participants that enhancing cyber capabilities will be critical in preventing organizations like ISIS from capitalizing on crises like the COVID-19 pandemic.
USSOCOM Acquisition Executive Jim Smith also said that the command has been focused on applying AI and ML into a broad portfolio of next-generation solutions for ISR, mobility, precision fires and effects, biotechnology, hyper-enabled operators and data and networks.
The command envisions AI and ML to tie in information provided by systems across different domains and enable drones and other robots to autonomously perform tasks. 
Smith also marveled at the possibility of using ML to identify anomalies in the battlefield instead of resorting to evaluating threat radar signatures. 
The USSOCOM, together with industry partners, is also using AI and ML to evaluate the long-term health effects on the brain of low-level blast exposure. 
To promote better decision-making, the command proposes an AI- and ML-power hyper-enabled operator capable of analyzing, synthesizing and communicating information to improve warfighters' cognitive overmatch at the edge.
Clarke expressed commitment to aggressively rolling out the proposed AI and ML capabilities in the near term.
Category: Popular Voices
Tags: Abdullah Il bin Al-Hussein artificial intelligence Jim Smith machine learning military information support operations MISO National Defense Magazine next-generation intelligence Popular Voices Richard Clarke Special Operations Command