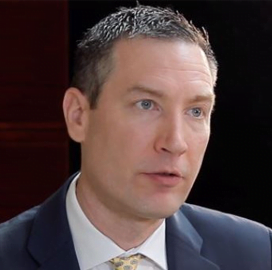 Todd Simpson
DevSecOps Head
Veterans Affairs
VA Names Todd Simpson Head of DevSecOps
The Department of Veterans Affairs has named Todd Simpson as deputy assistant secretary and new head of DevSecOps. His main priorities in the said role are software development and cybersecurity.
Simpson, who brings almost 30 years of IT management experience to the agency, took his oath before VA chief information officer James Grefer administered, Fedscoop reported Wednesday. 
To date, the VA is the largest federal agency that Simpson served as an executive. The department employs a workforce of more than 370,000 with a yearly budget of $100B. Five percent, or $5B, of the total funds was proposed as the IT budget for 2021. 
The agency has been setting its sights on IT modernization throughout the organization, particularly of the legacy systems in the electronic health record networks. 
As DevSecOps head, Simpson and his group will provide cybersecurity support in charge of maintaining network security to allow the DevOps workflow to function accordingly. The presence of DevSecOps is growing among federal agencies as the software methodology helps in the delivery of services fast and secure. 
Before joining the agency, Simpson served for over two years as chief product officer at the Department of Health and Human Services. His responsibilities included providing the agency IT platforms, vendor management and shared services. 
Previously, he was the CIO of the Food and Drug Administration for three years until April 2018, leading a team tasked to deliver IT services and support to FDA's 20,000-plus workforce spread across the U.S. 
Early in his career, Simpson held different positions in increasing responsibility at government and private organizations, including the Department of Transportation. 
A U.S. Air Force veteran, Simpson graduated from Ohio State University with a bachelor's degree in resource management and a master's degree in public administration. He also holds a master's degree in information systems from Drexel University. 
Category: Partnerships and Executive Moves
Tags: Department of Health and Human Services Department of Transportation Department of Veterans Affairs DevSecOps executive movement FDA FedScoop Food and Drug Administration HHS Partnerships and Executive Moves Todd Simpson VA