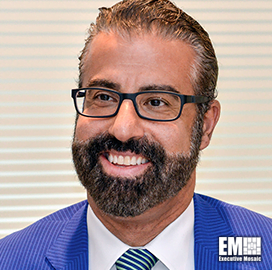 Ramzi Musallam
CEO
Veritas Capital
Veritas Capital to Acquire NG Federal IT, Mission Support Services
Equity firm Veritas Capital has signed a definitive agreement to purchase Northrop Grumman's federal IT and mission support services business for $3.4B in cash. 
The unit, which is expected to generate $2.3B in revenue in 2020, offers various advanced technology services, including cybersecurity, data analytics, cloud, mission-critical application development and advanced engineering to defense, intelligence, space, civil and health clients, the company said Monday.  
CEO and Managing Partner Ramzi Musallam, a past POC event speaker and a 2020 Wash100 winner, said Northrop Grumman's business segment has a track record of providing innovative technology solutions that meet the requirements of public sector customers. 
"We believe that with our focus, vision and resources, we can create a scaled, technology-enabled services platform that is well-positioned for long-term growth and ability to deliver unparalleled support to a broad range of critical government missions," he said.
Kathy Warden, Northrop Grumman chairman, CEO and president and a 2020 Wash100 winner, said the transaction will allow the company to focus on core businesses where technology and innovation are the key differentiators. 
"We expect to create compelling value to our shareholders through this transaction and execution of our capital allocation strategy," she said.
When the transaction is fully complete, Veritas plans to integrate the segment with its portfolio company Peraton, an IT service company offering solutions that enhance space, intelligence, cyber, defense, homeland security and communications capabilities for the public and private sectors. 
The combination is seen to develop a leading government mission-capability integrator and IT provider engaged in delivering high-end, technology-enabled services. 
Stu Shea, Peraton chairman, president and CEO and a 2020 Wash100 winner will oversee the planned merger. He noted that the addition will strengthen the company's position as one of the industry leaders and help address the customers' challenges and needs. 
"Our differentiated, complementary solutions and deep relationships with our respective customer bases give us the scale and resources to continue to address the evolving needs of government customers," he said.
Category: Speaker News
Tags: acquisition cloud cybersecurity data analytics Federal IT and Mission Support Services Business information technology Northrop Grumman Peraton Ramzi Musallam Speaker News Stu Shea Veritas Capital