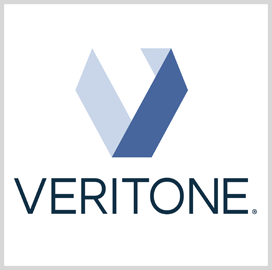 Veritone to Provide Audio, Video, Transcription Services for DOJ Under $210M Contract
Veritone, an artificial intelligence tech company based in Costa Mesa, California, has landed a two-year, $210M indefinite-delivery/indefinite-quantity contract to deliver audio and video transcription services, as well as translation services, to the Department of Justice.
The services provided under the contract will cater to 94 U.S. attorney's offices nationwide. According to the company, work for the contract will accelerate discovery processes in a cost-saving manner, the Federal Times reported.
"We appreciate being selected as the provider of AI-based transcription and translation services for the DOJ to assist their agencies with audio and video-based discovery, securely and at scale," said Jon Gacek, head of government, legal and compliance at Veritone.
The contract also aligns with Veritone's goal of helping transform government operations using AI-enabled solutions that provide actionable intelligence and tools that save cost, resources and time, Gacek added.
Notably, the award also represents a major milestone for Veritone, as it marks the company's first major federal government contract win, having previously been selected as a subcontractor in support of federal clients including the Department of Veterans Affairs and the Army.
Speaking in a recent earnings call, Veritone President Ryan Steelberg expressed optimism about the company's federal contracting prospects, citing a slew of closed deals. In particular, Steelberg is hopeful that the company's pipeline for government, legal and compliance would prove beneficial in more legal-centric initiatives with the DOJ and the Department of Defense.
As it stands, Veritone's aiWARE Government platform is being used by the Air Force for its rapid acquisition initiative called the AFWERX program. The platform received clearance from the Federal Risk and Authorization Management Program in March 2019. 
Founded in 2014, Veritone offers a suite of AI-enabled industry solutions focused primarily on three pipelines, namely government, legal and compliance, as well as media and entertainment. Veritone envisions the actionable insights derived from its AI solutions to influence data-driven decisions and result in new opportunities.
Category: Contract Vehicles
Tags: actionable intelligence aiWARE Government artificial intelligence contract award Contract Vehicles Department of Justice Federal Risk and Authorization Management Program Federal Times FedRAMP Jon Gacek Ryan Steelberg transcription service Veritone