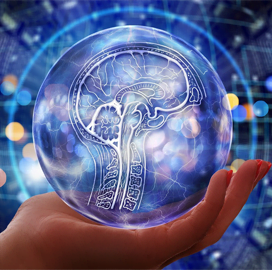 Artificial intelligence
White House Establishes National AI Initiative Office
The White House Office of Science and Technology Policy has established an office responsible for implementing the United States' national artificial intelligence strategy.
The National AI Initiative Office will oversee AI-related research and policymaking in support of the government, industry and academia, FedScoop reported Tuesday.
"The National Artificial Intelligence Initiative Office will be integral to the federal government's AI efforts for many years to come, serving as a central hub for national AI research and policy for the entire U.S. innovation ecosystem," said U.S. Chief Technology Officer Michael Kratsios, a 2020 Wash100 winner. 
In a press release, the OSTP said the new office will serve as the central hub for federal coordination and collaboration and will be responsible for pursuing U.S. leadership in the field. 
The new office has a seal that denotes a focus on neural networks and a mission to support the United States' AI research and education. 
The National AI Initiative Office was established in accordance with the recently passed National AI Initiative Act of 2020. The legislation, which garnered bipartisan support, was enacted to expand the White House's numerous AI policies and initiatives across the federal government.
One such effort is the American AI Initiative, established through Executive Order 13859. The directive identified five key lines of effort: increasing AI research investment, unleashing federal AI computing and data resources, setting AI technical standards, building the AI workforce and engaging with U.S. allies.
The White House also launched the Select Committee on AI in 2018 to coordinate federal AI efforts. The program will fulfill a role referenced in the legislation responsible for overseeing the National AI Initiative Office.
Category: Popular Voices
Tags: AI American AI Initiative artificial intelligence Chief Technology Officer CTO federal FedScoop Michael Kratsios National AI Initiative Office Office of Science and Technology Policy Popular Voices press release R&D Select Committee on AI strategy Wash100 White House OSTP