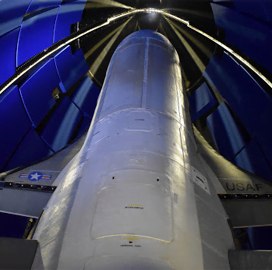 X-57B
Boeing, Air Force's X-57B Wins Collier Award
The National Aeronautic Association has honored the Air Force and Boeing's X-37B autonomous spaceplane with the Robert J. Collier award for its achievements in aeronautics and astronautics in 2019. 
Leanne Caret, Boeing's president of defense, space and security, a Potomac Officers Club member and a four-time Wash100 awardee, commended the men and women who worked on the X-57B team, Boeing said Thursday.
"Not only have they earned a place among our industry's legends through their commitment to innovation and performance, but their accomplishments will influence the next generation of space and aerospace development for the benefit of all humanity," Caret said. 
NAA awarded the 2019 Collier to the X-37B for advancing the performance, efficiency and safety of air and space vehicles, according to Boeing's press release.
The X-57B previously set a 78-day, on-orbit endurance record and completed an overflight of the United States before landing at NASA's Kennedy Space Center. 
Boeing and the Air Force broke their own on-orbit endurance of 718 days. The X-57B program has logged a total of more than 2.8K days and traveled more than 1B miles on-orbit. 
The award represents the ninth time the Collier was awarded to a partnership between the Air Force and Boeing and its legacy companies. 
Their other past awards include ones for achievements with the B-52, X-15, Global Positioning System and the C-17 Globemaster III. 
"Most Americans use space daily for navigation, information, and communication. Sophisticated and uncrewed, the X-37B advances reusable spaceplane technologies and operates experiments in space that are returned for further examination on Earth," said Air Force Secretary Barbara Barrett. 
First awarded in 1911, the Collier award was bestowed upon Orville Wright, the Apollo 11 Lunar landing team and the International Space Station, among others.  
Category: Member News
Tags: Apollo 11 B-52 Barbara Barrett Boeing C-17 Globemaster III endurance Federal Aviation Administration GPS International Space Station Kennedy Space Center Leanne Caret Member News NASA Orville Wright POC member Robert J. Collier Trophy U.S. Air Force U.S. Space Force Wash100 X-37B