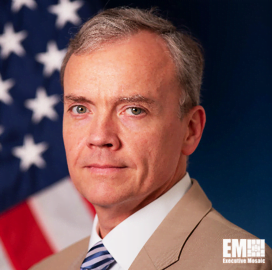 Timothy Grayson
Director, Strategic
Technology Office, DARPA
DARPA Sees Mosaic Warfare Concept Enhancing JADC2
Timothy Grayson, director for strategic technology office at the Defense Advanced Research Projects Agency and a past Potomac Officers Club event speaker, said the agency's Mosaic Warfare concept could enable Joint All-Domain Command and Control commanders to construct their own mission-tailored systems to meet a particular mission objective.
The JADC2 is the Pentagon's idea of connecting all weapons platforms and communications systems into a single network.
"What we're doing with Mosaic is trying to bust up monolithic architectures and make them into fluid dynamic types of warfighting constructs," Grayson said.
In a recent conference hosted by the National Defense Industrial Association, he compared the concept to a jigsaw puzzle in which all the various and contrasting systems have to be put together in one particular way to form a "mosaic artwork," Federal News Network reported Tuesday.
The agency has developed the concept for the past few years and aimed to apply it soon to JADC2.
According to Grayson, if everything is put in place, DARPA in the next five years will meet the second wave stage of Mosaic. In this phase, JADC2's commanders at the tactical edge will be able to build their own systems that are mission-customized to achieve a specific goal.
By the third wave, 10 years from now, the agency expects the defense acquisition system and its priorities to have changed to the point where the military's inventory of capabilities includes multiple customizable systems that can be made fast and affordable and put together anytime.
In the meantime, the military should reconsider some of its own concepts for Mosaic to become a reality, Grayson said. The official believes that the services should form specialized units as part of Wave 2 to use the tools DARPA is building at the tactical edge.
"We need to think about who is going to be that combat support element who is going to support all of these Mosaic tools," he said.
Category: Speaker News
Tags: artificial intelligence DARPA Federal News Network JADC2 Mosaic Warfare Speaker News Timothy Grayson US Air Force