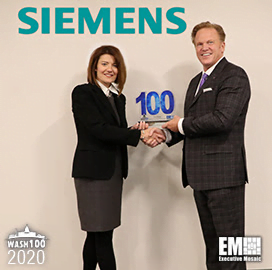 Tina Dolph and
Jim Garrettson
Siemens Government Technologies CEO Tina Dolph Bags Second Wash100 Award
Originally published on February 18, 2020
Tina Dolph, the president and CEO of Siemens Government Technologies and a Potomac Officers Club member, has won her second Wash100 award from Executive Mosaic as part of the 2020 selection. 
Executive Mosaic recognized Dolph's dedication to expanding the company and fostering technical innovation with a focus on providing sustainability, GovCon Wire reported. 
Under her leadership, Siemens progressed in its mission to serve as a digitalization enabler by taking advantage of its government-focused software. 
The company's solutions were designed to let government customers optimize maintenance, sustainment and production activities across depots and original equipment manufacturers.
Dolph played a key role in securing defense contracts that boosted Siemens' revenue and strengthened its relationship with the military. 
In July 2019, her team closed an $828.8M Navy task order to build, operate and maintain energy conservation systems at Naval Base Guantanamo Bay, Cuba. 
Siemens appointed Dolph to her current roles at the end of September 2019, setting her to succeed fellow Wash100 winner Barbara Humpton.
Prior to joining Siemens, Dolph served as the chief strategy officer for CRDF Global, as executive vice president and general manager at FCi Federal and as president of information and technical solutions for ASRC Federal. She also spent more than 18 years with Lockheed Martin in various roles.
Wash100 is an annual selection of the most influential personalities in government contracting. The award honors executives and government officials who have demonstrated skills in leadership, innovation, reliability, achievement and vision in the sector.
The recipients of the award are determined through nominations from the government contracting community and the discretion of the Executive Mosaic team. 
Category: Member News
Tags: Executive Mosaic Jim Garrettson Member News Siemens Government Technologies Tina Dolph Wash100