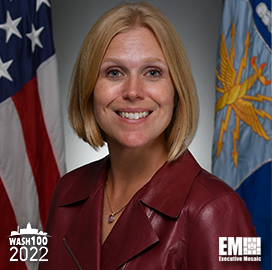 Lauren Knausenberger
CIO
Air Force
Air Force CIO Lauren Knausenberger Wins 2022 Wash100 Popular Vote Contest
After a close race, Lauren Knausenberger, chief information officer for the U.S. Air Force, has won first place in the 2022 Wash100 popular vote, marking her position as the top government contracting executive of this year's award season.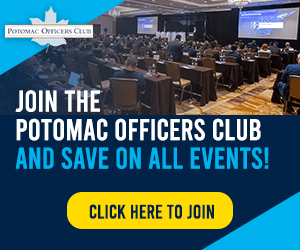 Over 3,000 votes were cast in this year's record-breaking competition.
Knausenberger secured her win with over 1,100 votes, making the 2022 race one of the most competitive yet. Last year, after her first Wash100 win, Knausenberger came in second place in the popular vote competition to Dr. Stacey Dixon, principal deputy director of national intelligence. Now, in her second year of Wash100 recognition, Knausenberger soared back into first place to clinch the win.
"A two-time winner of the Wash100, Lauren's popularity is no surprise to those who have either met or engaged with her professionally," commented Jim Garrettson, CEO of Executive Mosaic and founder of the Wash100 Award.
"She embraces the full spectrum of the Air Force's complex organizational tentacles reaching into cyber, space, technology portfolio investment, intelligence, cloud computing, terrestrial facilities and a myriad of interconnected areas across a $17 billion technology portfolio and a force of approximately 650,00 active duty and reserve airmen, civilians and air national guards," Garrettson continued.
Knausenberger beat out Amy Gilliland, president of General Dynamics Information Technology, by just 46 votes. As the competition came to a close, votes also surged for Clara Conti, vice president and general manager of Red Hat's public sector business, putting her in a tie for second place with Gilliland.
Here are the final popular vote results and this year's top 10 Wash100 Award winners:
Executive Mosaic thanks the government contracting community, the 2022 Wash100 Award recipients and all those who voted in the popular vote contest for making this year's turnout the best in the award's nine-year history.
Visit Wash100.com to read more about this year's selection of the top 100 executives of consequence and learn more about the prestigious award.
Category: Member News
Tags: 2022 Wash100 Award Air Force Amy Gilliland Clara Conti GDIT govcon Lauren Knausenberger Red Hat Wash100 Award