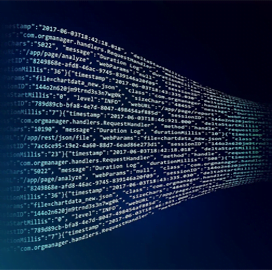 Data transfer technology
DOD Explores Technologies for Transferring Enterprise Data to Tactical Edge
Department of Defense leaders are working out how to constantly move enterprise-level data to and from the tactical level as part of the department's enterprise-wide data strategy.
DOD acting Deputy Chief Information Officer Clark Cully said 5G is one candidate technology that could drive information from the enterprise level down to the tactical edge, Nextgov reported.
Cully said his team is working with industry and international consortia to ensure in a bid to integrate cybersecurity and zero-trust principles in the foundation of 5G technologies. 
Existing technologies that are more mature than 5G serve as limiting factors for the Pentagon's data transfer ambitions, Cully said during a FedInsider webinar.
The data transfer effort is pursuant to the Digital Modernization Strategy that the DOD publicly released in July 2019. The document offered insight on how the department plans to earmark its $46 billion annual information technology budget over the next five years. 
In the strategy, officials said the DOD should have more effective oversight of IT investments because of the decentralized nature of the department's operations and spending. 
The DOD, in October 2020, also published a data strategy focused on accelerating the department's transition to a data-centric organization that uses data at speed and scale. 
The strategy highlights the management of data as a strategic resource and the importance of data in building and maintaining battlefield advantage. 
Former DOD CIO Dana Deasy, a speaker at a past Potomac Officers Club event, said data is as important as bullets for warfighters in maintaining an advantage on and off the battlefield. 
Category: Digital Modernization
Tags: 5G Clark Cully cybersecurity Dana Deasy Data Strategy Department of Defense digital modernization DoD enterprise data FedInsider Nextgov tacticale dge