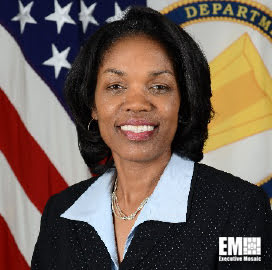 Steffanie Easter
Vice President
SAIC Defense Systems
SAIC Appoints Steffanie Easter as Strategy and Planning VP for Defense Systems Group
Science Applications International Corp. has named Steffanie Easter as its new vice president of strategy and planning for the Defense Systems Group. In her new role, Easter will help steer the strategic direction and drive the growth of all group customer accounts under the supervision of Jim Scanlon, executive vice president and general manager of the Defense Systems Group.
Easter has over 30 years of federal service experience, having served most recently as the director of the Navy Staff, in which she coordinated enterprise-level efforts across the Office of the Chief of Naval Operations and provided support to the chief of naval operations and the secretary of the navy, SAIC said.
She also held leadership positions for the Army throughout her career, including serving as the acting assistant secretary and the principal deputy of the Army for Acquisition, Logistics and Technology. During her tenure at the ASA(ALT), she was in charge of the Army acquisition workforce and the service's acquisition, research and development and logistics efforts.  
In addition, she was tapped to serve as the executive director for the F-35 Joint Program Office, assistant deputy chief of naval operations for manpower, personnel, training and education and assistant commander for acquisition for Naval Air Systems Command.
According to Scanlon, Easter's knowledge and insight into the Army and the Navy's mission and requirements will help SAIC improve its deployment of state-of-the-art solutions.
Speaking about her appointment, Easter said she looks forward to enabling the Defense Systems Group to continuously deliver outstanding support to the Navy, Army and the Defense Logistics Agency.
Category: Partnerships and Executive Moves
Tags: Defense Systems Group F-35 Joint Program Office Jim Scanlon Partnerships and Executive Moves SAIC Science Applications International Corporation Steffanie Easter U.S. Navy