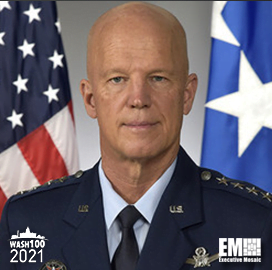 John Raymond
Chief of Space Operations
US Space Force
Senior Military Officials Express Support to Families of Fallen, Wounded Service Members
Two senior Air and Space Force officials attended the annual Survivor Advocacy roundtable, where they expressed support to the families of fallen or wounded service members.
The event serves as an opportunity for surviving family members to discuss support services and raise suggestions to improve current programs.
During the roundtable, Chief of Space Operations Gen. John Raymond and Air Force Chief of Staff Gen. Charles Brown Jr. fielded feedback, including recommendations to grant survivors emergency access to child care and to increase the reimbursement rate for counseling and therapy, MilitarySpot reported Monday.
Families also asked to simplify the process of obtaining investigation reports and to extend the suicide prevention and response program services to surviving siblings. They also requested expanding the medical benefits for surviving children.
Samantha Lewis, a widow of the late Staff Sgt. Jordan Lewis, asked the senior leaders if it would be possible not to categorize survivors based on cause of death.
Lewis, whose late husband died during a training accident in 2015, argued that the current system qualifies as a form of exclusion.
"All of the sudden, I'm just not allowed to participate in things because my husband's death wasn't as valuable as somebody else who died in combat," she said.
Upon hearing the recommendations, Brown annotated areas that the Air Force can improve on. He noted, however, that some suggestions require legislation from Congress.
Raymond, a past Potomac Officers Club event speaker and 2021 Wash100 winner, shared Brown's commitment to helping surviving family members and encouraged them to continue engaging with representatives regarding their concerns.
Category: Speaker News
Tags: Charles Brown Jr. John Raymond MilitarySpot Speaker News Survivor Advocacy roundtable US Air Force US Space Force