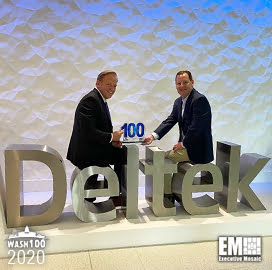 Jim Garrettson
and
Kevin Plexico
Deltek's Kevin Plexico Wins First Wash100 Award
Kevin Plexico, Deltek's senior vice president for information solutions, received his first Wash100 award from Executive Mosaic for his contributions to the government contracting industry.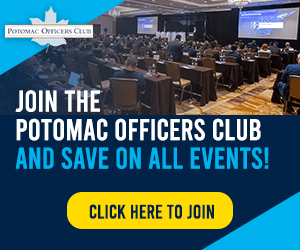 Executive Mosaic CEO Jim Garrettson presented the award to Plexico for leading Deltek's team of analysts to secure contracts. 
In 2019, Deltek analysts identified contracts worth potentially $437B across 50 unrestricted, set-aside, professional services and architecture, engineering and construction areas.
The Top Federal Opportunities for FY 2020 report said the Department of Energy's potential $60B Energy Savings Performance Contract GEN 4 as the highest-valued contracting opportunity for vendors. 
The company also found that eight out of the top 10 small business set-aside contracts for FY20 are managed by civilian agencies, with seven of these obligations related to IT.
Plexico oversees the delivery of GovWin, Deltek's industry-leading government market research and information solution, that offers relevant insight for over 6K customers.
In addition, he heads the organization's specification content and specification writing services teams of architects, engineers and editorial professionals. They are tasked to provide MasterSpec, a product of The American Institute of Architects and the premier master guide construction specification content in the U.S., and other services such as Product MasterSpec and SpecText.
Based in Herndon, Virginia, and established in 1983, Deltek is a provider of enterprise software and information solutions for project-based businesses employing more than 3K employees worldwide. 
The public company specializes in project management, enterprise resource planning, professional services, talent and resource management, information solutions, emerging trends, digital transformation, big data, millennial workforce and software-as-a-service. 
Before joining the organization in October 2010, Plexico was the senior vice president for research and analysis services at INPUT, leading research operations and product development and management for the company's government information products.
Wash100 is an annual selection of the most influential personalities in government contracting. The award honors executives and government officials who have demonstrated skills in leadership, innovation, reliability, achievement and vision in the sector.
Category: Speaker News
Tags: Deltek Executive Mosaic GovConWire GovWin Jim Garrettson Kevin Plexico market research Speaker News Specification Content and Specification Writing Services Wash100