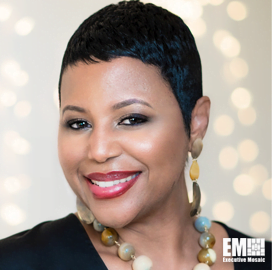 Karen Swain
President, CEO
Excelous
Karen Swain, President and CEO at Excelous
Karen Swain serves as the president and chief executive officer of Excelous, an 8(a) certified woman-owned small business headquartered in Atlanta, Georgia.
The firm provides organizational change management services for clients from the government and commercial sectors. Excelous implements enterprise-wide information technology initiatives to provide customers with ways to adapt, control and manage change within their organizations, according to Swain's LinkedIn profile.
Swain leads a team of consultants experienced in the areas of instructional design, business process reengineering, change management and document control.
The firm's staff is composed of professionals such as IT program managers, system engineers, developers and security specialists.
Swain, whose areas of expertise include business analysis, strategy, requirements analysis and business process improvement, has been serving as head of Excelous for nearly 10 years, having joined the management and consulting firm in 2011 from Deloitte.
She worked at Deloitte from February 2010 to July 2011 as a senior organizational change management consultant. In the position, Swain was responsible for spearheading OCM and training deployments focused on enterprise-wide technology projects.
Her LinkedIn profile states that the Deloitte projects she led during her nearly two-year stint were aimed at impacting organizations' human capital, product lines and business processes.
Swain joined Deloitte from BearingPoint, where she held a similar role. Like Excelous and Deloitte, BearingPoint also delivers management and technology consulting services.
The Excelous CEO has a bachelor's degree in accounting from Florida A&M University. She also holds a Master in Business Administration degree from Clark Atlanta University.
Category: Executive Profiles
Tags: BearingPoint business process reengineering Deloitte document control Excelous Executive Profiles instructional design IT Karen Swain LinkedIn organizational change management women-owned small business leadership