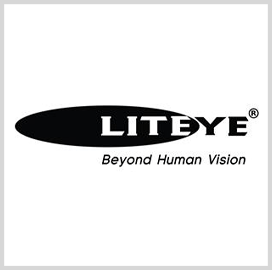 Liteye Announces SIGNUM CUAS Threat Detection, Targeting System
Liteye Systems has introduced the SIGNUM threat detection and targeting system, which was designed to defeat unmanned aerial systems and similar targets. 
SIGNUM supports multi-domain intelligence, surveillance and reconnaissance missions and accurate 3D targeting, Liteye said.
"Effectiveness increases greatly when SIGNUM is used to cue a kinetic kill weapon to a positive ID target," said Ryan Hurt, Liteye's vice president of business development.  
Hurt said SIGNUM has demonstrated its capability on multiple kinetic systems, including high-powered microwaves to 300mm cannons. 
The tool is armed with combat-ready radar, optics, radio-frequency surveillance and control system components for multi-domain support, Liteye said.
Liteye developed SIGNUM in partnership with Numerica, a developer of security solutions for valuable assets in mission-critical environments.
SIGNUM expands Liteye's U.S. manufacturing product portfolio of anti-UAS defense systems. Liteye is a defense and space technology solutions manufacturer based in Centennial, Colorado.
The company specializes in integrating military and commercial counter UAS, U.S. AUDS, drone sense and warning systems, high-resolution head-mounted displays and augmented sights,
Liteye also develops thermal surveillance systems, covert surveillance systems, electronic warfre packages, radar systems and fire control software solutions.
The firm has offices in the United Kingdom and sales affiliates worldwide. It will be celebrating its 20th anniversary in 2020.
Category: Future Trends
Tags: Counter Unmanned Aerial Systems CUAS Future Trends Intelligence Surveillance and Reconnaissance ISR Liteye Systems multi-domain support Numerica RF Surveillance Ryan Hurt SIGNUM UAS unmanned systems