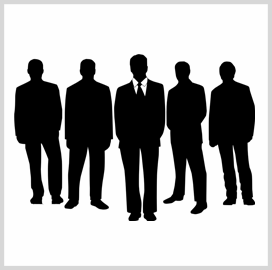 Leadership positions
Biden Reveals Picks for Leadership Posts at Executive Departments
President Joe Biden has named his nominees for key leadership positions at the departments of Veterans Affairs, Labor, Energy and Transportation.
Biden wants to nominate Matt Quinn for under secretary for memorial affairs at the VA and Doug Parker for assistant secretary for occupational safety and health at the DOL.
He is also eyeing Ali Nouri to take on the role of assistant secretary for congressional and intergovernmental affairs at the DOE and Nuria Fernandez to serve as administrator of the DOT's Federal Transit Administration, the White House said.
All four picks have prior leadership experience.
Quinn has served nearly 37 years in the Army and Army National Guard, during which time he was appointed as the adjutant general for the state of Montana. He was also a commander of the troops deployed in Operations Desert Storm and Iraqi Freedom.
He has worked in the private sector as well, having served as president of ELM Locating and Utility Services.
Parker is a former DOL executive who served under the Obama administration. At the time, he was deputy assistant secretary for policy in the department's Mine Safety and Health Administration.
Before that, he was a partner at Washington-based law firm Mooney, Green, Saindon, Murphy and Welch.
Currently, Parker leads California's Division of Occupational Safety and Health.
Nouri has been with the Biden administration since January. His first assignment under President Biden was to serve as principal deputy assistant secretary in the DOE's Office of Congressional and Intergovernmental Affairs.
Previously, he spent nearly three years as president of the Federation of American Scientists. One of his focuses as president was combatting COVID-19 misinformation by disseminating timely, science-based information.
Similar to Nouri, Fernandez joined the administration in January, taking on the role of deputy administrator and senior official of the FTA.
Prior to joining FTA, she had a seven-year tenure as general manager and chief executive officer of the Santa Clara Valley Transportation Authority, an independent special district that provides bus, light rail and paratransit services.
Category: Federal Civilian
Tags: Ali Nouri Department of Energy Department of Labor Department of Transportation Department of Veterans Affairs Doug Parker federal civilian Joe Biden Matt Quinn nomination Nuria Fernandez White House