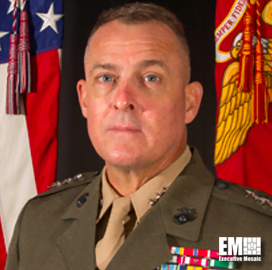 Michael Groen
Director
JAIC
JAIC Director Touts Benefits of AI Amid Tightening Defense Budget
Lt. Gen. Michael Groen, director of the Joint Artificial Intelligence Center and a 2021 Wash100 winner, recently talked about the efficiencies of AI and its potential to help the Department of Defense in its budget situation.
Speaking at an April 9 press briefing, Groen told reporters that relying on AI's productivity gains becomes an economic necessity especially at a time when the DOD is faced with tightening budgets and forced to scrap legacy systems.
His remarks follow the release of the Biden administration's $715 billion defense budget proposal, which reflects an overall funding decrease when adjusted for inflation, C4ISRNET reported.
Creating productivity gains, according to Groen, requires the DOD to adopt a more data-driven approach and transform its operating model.
"That operating model will have to create a common data environment where data is shared, data is authoritative and data is available," he said.
The idea is to make the DOD as productive and efficient as modern successful data-driven enterprises, he added.
As the leader of JAIC, Groen has been advocating for increasing the use of AI across the DOD.
During his appearance at an NDIA-hosted conference, he urged decision makers, commanders and policymakers to begin the path to implementing available AI tech. He emphasized the need for faster adoption of AI across the military, citing threats posed by adversaries like China.
JAIC recently demonstrated its commitment to promoting the use of AI with the release of a request for proposals for the Data Readiness for Artificial Intelligence Development services contract. The $241 million deal focuses on preparing the DOD for artificial intelligence development.
Category: Defense and Intelligence
Tags: artificial intelligence budget C4ISRNET Defense and Intelligence JAIC Joint Artificial Intelligence Center Michael Groen