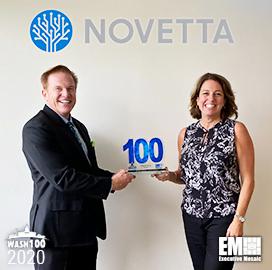 Jim Garrettson
and Tiffanny Gates
Novetta President, CEO Tiffanny Gates Awarded Second Wash100 Award
Tiffany Gates, president and CEO at Novetta, has received her second Wash100 Award from Executive Mosaic for increasing the company's analytic and security technologies.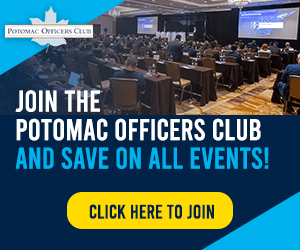 She is also instrumental in securing new certifications, managing strategic partnerships and expanding the company influence in the government contractor industry.
Gates bagged her first award in 2019 due to her efforts to grow the company's workforce through new technological innovations and certifications.
In May 2019, she helped receive the organization's ISO 9001:2015 certification, which confirmed the company's readiness to deliver first-rate products and services to customers. 
Gates said the certification acknowledges the company's commitment to quality in policies and procedures, business operations and customer engagement. 
"We are extremely proud to have achieved ISO 9001 certification. It reflects long-standing best practices in growing our business and retaining high-performing staff," she said.
In June 2019, Novetta partnered with Enveil to incorporate their analytics and security technologies as part of the latter's Technology Alliance Program, meant to help protect government agencies' classified or sensitive mission data. 
Novetta booked $724M in contracts in 2019, a 68 percent year-on-year growth, and received a Maturity Level 3 appraisal under the Capability Maturity Model Integration for Development program. 
Amazon Web Services also named the company for the Public Sector Technology Partner Award in recognition of using artificial intelligence and machine learning to help improve AWS sales.
In addition, Gates spearheaded Novetta's acquisition of the software engineering services company WaveStrike for an unspecified amount to make new growth opportunities for workers and enhance the capability development expertise.
She believed that combining the organization's complementary capabilities and talented workforce translates to improved support for customers. "The synergy between our programs positions us for larger-scale opportunities and reinforces us as a top destination for technical talent."
An international leadership organization and media company, Executive Mosaic serves as a news source for government contracting industry professionals.
Category: Member News
Tags: big data cloud GovConWire government contracting information technology Jim Garrettson Member News Novetta Potomac Officers Club Tiffany Gates Wash100 WaveStrike