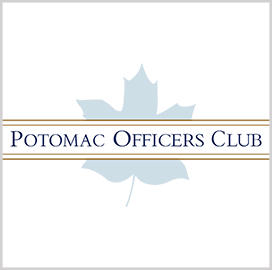 Top 5: Executives to Watch in AI GovCon
The public and private sectors are now stepping up the use of artificial intelligence and other emerging technologies amid mounting pressure to innovate. Three months ago, the Department of Defense adopted a set of AI ethical principles to help service branches uphold commitments associated with the technology. The National Security Commission on Artificial Intelligence, a congressionally mandated group tasked with reviewing technology advancements, has recommended that the federal government double spending on non-defense AI research and development projects to $2B for the next fiscal year.
In line with these initiatives, the Potomac Officers Club — a division of Executive Mosaic — will host the "AI Just Beyond Tomorrow" virtual event on May 28 to discuss the potential role of such technology in digital transformation. Peter Singer, author of "Burn-In: A Novel of the Real Robotic Revolution," will deliver the keynote address at the forum.
The Potomac Officers Club is pleased to feature some of the GovCon arena's key people who are helping to drive the adoption of AI platforms and services.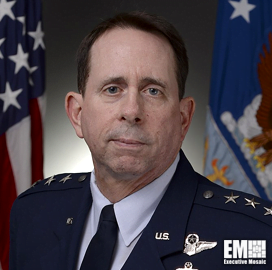 Lt. Gen. Jack Shanahan, JAIC Director
Lt. Gen. Jack Shanahan currently works under the Office of the Department of Defense Chief Information Officer as the director of the Joint Artificial Intelligence Center, a role he has held for nearly a year and a half now.
Since taking on the role in December 2018, Shanahan has been at the forefront of the DoD's efforts in accelerating the delivery of AI-enabled capabilities to achieve mission impact at scale and ultimately expand joint force advantages.
Shanahan's experience with AI projects stems from his prior experience serving as director of the Algorithmic Warfare Cross-Functional Team, also known as Project Maven, the AI pathfinder project under the undersecretary of defense for intelligence, JAIC posted.
While Project Maven focused on building a product delivery pipeline, the JAIC extended to full AI capability delivery, backed by strategic engagement and policy, plans and analysis, intelligence and an operating model of centralized direction, Shanahan detailed in a previous briefing on the DoD's AI-related initiatives.
According to Shanahan, the JAIC is keen on accelerating the military application of AI without compromising ethical, safety, and legal standards.
Some of the current priorities of the JAIC include predictive maintenance for the H-60 helicopter, cyber sense-making focused on event detection, user activity monitoring and network mapping, as well as intelligent business automation.
Under Shanahan's leadership, the JAIC is also working to establish the Joint Common Foundation, a platform envisioned to provide access to data, tools, environments, libraries and other certified platforms to facilitate rapid development, evaluation, testing and deployment of AI-enabled solutions to warfighters.
Most recently, the JAIC awarded an $800M contract to Booz Allen Hamilton to develop AI for warfighting operations.
"This contract will be an important element as the JAIC increasingly focuses on fielding AI-enabled capabilities that meet the needs of the warfighter and decision-makers at every level," Shanahan said in an announcement.
A multi-awarded leader, Shanahan won the 2020 Wash100 Award for his leadership in JAIC, particularly for pushing for stronger AI initiatives and improving recruitment to test the technology's capabilities.
He has also received other awards, including the Defense Distinguished Service Medal, the Distinguished Service Medal, the Air Force Commendation Medal and the Defense Meritorious Service Medal.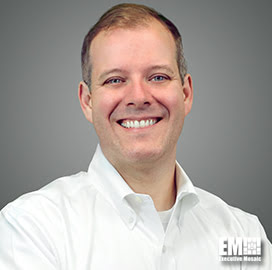 Brad Mascho, Chief AI Officer at NCI
Brad Mascho, a current member of the Potomac Officers Club, serves as the chief artificial intelligence officer of NCI, a Reston, Virginia-based company specializing in AI, big data, cybersecurity, hyperconverged infrastructure and digital transformation.
In his current position, Mascho leads all AI initiatives around strategy, partnerships and business development.
Under Mascho's leadership, NCI has implemented AI solutions that increased productivity tenfold among commercial customers and clients across the federal sector, including the Department of Health and Human Services, the Centers for Medicare & Medicaid Services, the Army, Navy and the Air Force, according to his LinkedIn profile.
He has also been credited for developing NCI's award-winning AI framework that provides end-users intelligent automation, machine learning, voice recognition, image recognition, and data labeling.
Prior to joining NCI in January 2018, Mascho co-founded CrossChx, an Ohio-based company focused on building AI solutions to empower and scale human resources. During his six-year tenure as company president, Mascho expanded CrossChx's market reach across the country. The company's growth merited three consecutive years of inclusion in Columbus Business First's list of Best Places to Work.
He also served as vice president of Insured Retirement Institute, where he led all matters relative to the organization's sales, sponsorships, and technology. While at IRI, Mascho was able to generate over $2M in new annual revenue and 100K new members through the implementation of rapid growth strategies.
Before entering the private sector, Mascho worked closely with congressional and state officials from 2003 to 2009, taking on roles such as communications director, campaign manager and senior advisor.
Mascho completed both his bachelor's and master's degree in arts from Miami University.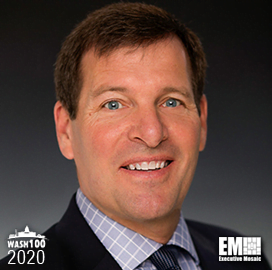 Anthony Robbins, NVIDIA's VP of Federal
Anthony Robbins, a 2020 Wash100 winner and a Potomac Officers Club member, serves as NVIDIA's vice president for federal business, a role he has held for nearly three years.
Robbins is responsible for supporting the company's customers in their efforts to advance artificial intelligence technologies.
He works with partners from federal, state and local governments and higher education and research universities, according to his LinkedIn profile.
In his role, Robbins leverages over three decades of experience delivering information technology solutions to warfighters and citizens. He is also credited with delivering over $15B in revenue.
Before he joined NVIDIA in October 2007, Robbins served as the vice president of AT&T's global defense business, which is part of the company's global public and business solutions team.
Robbins also served as Brocade's vice president for the federal sector for nearly five years.
He briefly served as a senior vice president at Oracle, where he led sales of servers and storage to the Pentagon, civilian agencies, state and local governments, K-12 institutions and the Canadian government. Robbins spent a total of 12 years at SGI, a computer hardware company based in Milpitas, California.
For seven years, he served as SGI's vice president for federal affairs and spent four years as its senior vice president for North American field operations.
He left the company in July 2006 to join Sun Microsystems, where he led a team of over 900 employees who generated over $1.4B in sales of servers, software and services to defense customers.
Robbins earned a bachelor's degree in business and marketing from Jacksonville State University and attended business classes at the University of Alabama at Birmingham.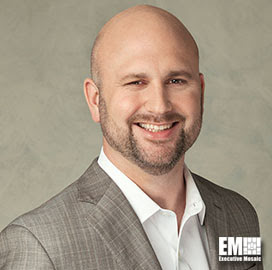 Steve Escaravage, Booz Allen SVP, Leader of AI, Analytics
Potomac Officers Club member Steve Escaravage serves as Booz Allen Hamilton's senior vice president, leading the company's analytics practice and artificial intelligence services businesses.
Escaravage, who served as the company's vice president from 2000 until April 2018, when he attained his seniority, supports customers with the operational integration of data science, machine learning and artificial intelligence solutions, Booz Allen said
His role is also responsible for leading analytics strategy vision and technical delivery across all of Booz Allen's business lines.
Escaravage dictates the company's investments in data science, machine learning and AI, with a focus on AI design and implementation, machine learning operations, adversarial machine learning, cognitive automation and quantum information science.
The SVP has led initiatives and held leadership roles in the company's business lines related to the defense, health, energy, commercial and international business sectors.
Escaravage most recently led Booz Allen's defense analytics business in support of the Joint Artificial Intelligence Center and other agencies under the Department of Defense.
Before that, Escaravage modernized the company's Food and Drug Administration business.
He is credited with upgrading the unit from a traditional systems integration provider to a strategy, technology and analytics partner.
The SVP also oversaw Booz Allen's machine learning and data management solution offerings for commercial financial institutions, commercial pharmaceutical manufacturers and the Department of Veterans Affairs.
Escaravage is an expert in the fields of applied mathematics, data management and optimization.
He holds a master's degree in operations research from George Mason University and a bachelor's degree in mathematics from Rutgers University.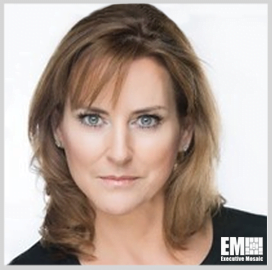 Erin Hawley, DataRobot VP of Public Sector
Erin Hawley is the vice president of Data Robot's public sector business, offering key contributions to the implementation of the company's enterprise machine learning platform, which provides end-users with accurate predictions at scale.
A 20-year industry veteran and a Potomac Officers Club member, Hawley has been involved in the development of innovative business strategies aimed at advancing start-up companies, maximizing revenues and achieving critical business objectives. She has acquired specialized knowledge in artificial intelligence, executive relationships, sales and marketing, innovative thinking, big data, predictive modeling, strategic alliances and enterprise licensing, according to her LinkedIn profile.
Prior to working for DataRobot, Hawley spent four years at Cloudera Government Solutions, where she was appointed as director for national security programs. In the said role, Hawley focused on the public sector intelligence community territory and business development within legislative affairs. She also contributed to making Cloudera the leader in the open-source Apache Hadoop ecosystem.
In an article for FCW, Hawley described next-gen technologies like AI and ML as game-changers in the federal government, considering their ability to facilitate faster and more accurate decision-making.
According to Hawley, federal agencies should follow in the footsteps of private companies that use AI. In particular, she suggested that the federal sector weaponize AI against sophisticated cyber adversaries to pinpoint insider threats before they strike and proactively identify fraud or anticipate terrorist attacks.
"Given the national security and economic threats we face and the growing shortage of data scientists, embracing this innovation is critical for staying one step ahead. With the power of AI and machine learning, this capability is now at our fingertips," Hawley wrote.
ABOUT POTOMAC OFFICERS CLUB
The Potomac Officers Club is owned and operated by Executive Mosaic. Since 2002, Executive Mosaic has been a leader in media and exclusive senior executive networking programs primarily targeted to the U.S. federal government contracting (GovCon) marketplace. In addition to connecting executives of consequence into a fabric of like minded communities, the company's growing cross-media platform serves as a leading source of news about the people, policies, trends and events shaping the nation's GovCon sector.
Category: Articles
Tags: AI Just Beyond Tomorrow Anthony Robbins artificial intelligence Booz Allen Hamilton Brad Mascho DataRobot Department of Defense digital transformation Erin Hawley Executive Mosaic Executive Profiles forum govcon government contracting Joint Artificial Intelligence Center Lt. Gen. Jack Shanahan machine learning National Security Commission on Artificial Intelligence NCI Information Systems NVIDIA Peter Singer Potomac Officers Club robotic revolution Steve Escaravage virtual event