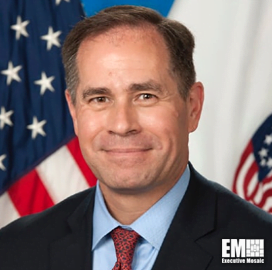 Brooks Tucker Takes on New Role as VA Acting Chief of Staff
Brooks Tucker has been named as the Department of Veterans Affairs' acting chief of staff, a role he assumed on April 30.
The VA executive, however, is fulfilling his new role while maintaining his current position as assistant secretary for the department's Office of Congressional and Legislative Affairs. 
VA Secretary Robert Wilkie, a past Wash 100 Winner, stated in a press release that Brooks' legislative experience in negotiating some of the department's most sweeping reforms and his understanding of the department's mission make him an ideal choice for the position, VA said.
According to his LinkedIn profile, Tucker has been the OCLA's leader for nearly three years. In the said position, Tucker serves as the legislative advisor to the VA Secretary and presents the department's legislative policy agenda to members of Congress.
Prior to joining VA, Tucker was a veterans' policy adviser on President Donald Trump's transition team. His contributions to the team include coordinating with the Agency Action Team and providing strategic input for use by White House Staff and VA leadership. 
Tucker's ties with the VA extend to his five-year tenure from 2010 to 2015 as a senior policy adviser to Sen. Richard Burr. and the deputy staff director for the Senate VA Committee.
Outside of the VA, Tucker worked for Continental Consulting Group, where he served as vice president for government relations. For 10 months, he was responsible for sustaining working relationships on Capitol Hill with members and staff for the group and its clients.
Tucker entered the federal sector after more than 25 years of active and reserve service in the U.S. Marine Corps. He retired as a lieutenant colonel, having been selected as one of five Marines to serve on Congressional Staff in the Senate for 2009. He was also an infantry unit leader and staff officer during peacetime training deployments and wartime operation deployments.