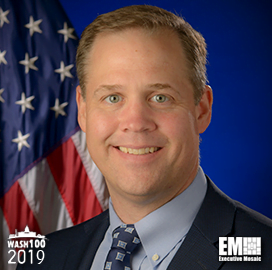 Jim Bridenstine
Jim Bridenstine, NASA's 13th Administrator
Jim Bridenstine, a past Wash100 winner, serves as NASA's 13th administrator and has led the organization's objectives to advance aeronautics, science and space explorations since April 23, 2018.
NASA's new human lunar exploration mission, the Artemis program, launched under Bridenstine's leadership. Artemis is expected to land the first woman and next man on the surface of the Moon by 2024, NASA said.  
Bridenstine is responsible for the continued commercial resupply of the International Space Station. He is credited with leading the agency's efforts to partner with American businesses on the Commercial Crew Program.
The administrator established the Commercial Lunar Payload Services Program, which partners the agency with private enterprises in landing rovers on the Moon. 
During Bridenstine's administration, NASA accelerated its development of the X-59 supersonic aircraft and the X-57 all-electric airplane.
He also supported NASA's aeronautical innovators in developing the Unmanned Aircraft Systems Traffic Management, a program for facilitating the safe use of drones for commercial and everyday-life purposes. 
NASA's science portfolio under Bridenstine's leadership includes a life-seeking Mars rover scheduled to launch in July 2020.
Before he joined NASA, Bridenstine served as a representative of Oklahoma's first congressional district in the House of Representatives. 
He also served on the House's Armed Services Committee and the Science, Space and Technology Committee.
Bridenstine began his federal service career in 1998 as a Navy pilot who flew an E-2C Hawkeye off the USS Abraham Lincoln aircraft carrier.
He later served as the executive director of the Tulsa Air and Space Museum and Planetarium in Tulsa, Oklahoma.
Bridenstine completed a triple major at Rice University and earned a master's degree in business administration from Cornell University. 
Category: Executive Profiles
Tags: Administrator aeronautic Cornell University Executive Profiles International Space Station Jim Bridenstine NASA National Aeronautics and Space Administration Rice University space exploration Wash100