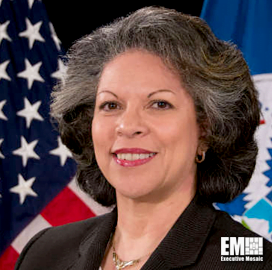 Soraya Correa
Soraya Correa, Chief Procurement Officer at DHS
Soraya Correa is the current chief procurement officer of the Department of Homeland Security, giving her executive responsibilities over the nine heads of contracting activity dedicated to providing operational procurement services to DHS components, directorates and offices. 
Since taking on the role in January 2015, Correa has led efforts aimed at promoting cooperation across the DHS procurement workforce to ultimately enable and support the DHS mission. 
One of the efforts initiated under Correa's watch is the Acquisition Innovations in Motion framework, which covers the Procurement Innovation Lab and the Education, Development, Growth and Excellence mentoring program, the DHS said. 
Her contributions were also integral in the development of the Homeland Security Acquisition Institute, the Acquisition Professional Career Program, the Strategic Sourcing Program Office and the Office of Small and Disadvantaged Business Utilization.
As a pioneer DHS executive, Correa has been appointed as head of contracting activity for Immigration and Customs Enforcement and associate director of the Citizenship and Immigration Services Enterprise Services Directorate.
Prior to working for the DHS, Correa served other federal agencies, such as the Naval Sea Systems Command, General Services Administration, National Aeronautics and Space Administration and Immigration and Naturalization Service.
Correa is also a multi-awarded leader, having been recognized for her contributions to the acquisition workforce, procurement innovation and promoting meaningful communications with industry. Throughout her career, she has received the 2018 Presidential Rank Award for Distinguished Service, the Secretary's Award for Excellence, Management Support Awards, Federal 100 recognition, Public Sector Partner of the Year and Top Women in Tech award.
She holds an undergraduate certificate in acquisitions management from The American University and a bachelor's degree in management from National–Louis University. 
Category: Executive Profiles
Tags: Chief Procurement Officer Department of Homeland Security DHS Soraya Correa