Steven Omick
President and CEO
Riverside Research
Steven Omick, Riverside Research President, CEO
Steven Omick, a Potomac Officers Club member, serves as the president and CEO of Riverside Research Institute, a nonprofit organization that champions open and collaborative innovation in science.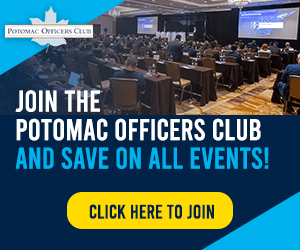 Omick has over 28 years of research and executive leadership experience across the private sector and the defense and intelligence industries. 
As president and CEO, Omick leads an organization that specializes in biomedical engineering; cyber; electromagnetic sciences; and intelligence, surveillance and reconnaissance. 
Riverside Research has offices in Boston; Centreville, Virginia; Champaign, Illinois; Dayton, Ohio; Melbourne, Australia; New York City; and Arlington, Virginia.
Before he joined Riverside Research in March 2016, Omick served as the president of Applied Communications Sciences, a communications engineering company where he established a model for commercializing intellectual property through a combination of individual and government-sponsored research. 
Omick led ACS' integration into its parent company, Vencore Labs, which is now known as Perspecta as a result of a 2018 merger.
The research veteran previously served as the president and CEO of Rincon Research Corporation. He joined the said company in 1996 as a research engineer designing, developing and fielding prototype digital communications capabilities.
RRC is a provider of digital signal processing products and engineering services for the Intelligence Community. 
Omick is a published author in the field of computational electromagnetics. He taught electrical engineering courses and led research programs at the New Mexico State University. 
He earned a bachelor's degree in electrical engineering, a master's degree specializing in power and control systems and a doctorate in computational electromagnetics from New Mexico State University. 
Category: Executive Profiles
Tags: Applied Communications Sciences biomedical engineering CEO computational electromagnetics defense electromagnetic sciences Executive Profiles ISR New Mexico State University Perspecta POC member President Research and Development Rincon Research Corporation Riverside Research Institute Steven Omick Vencore Labs