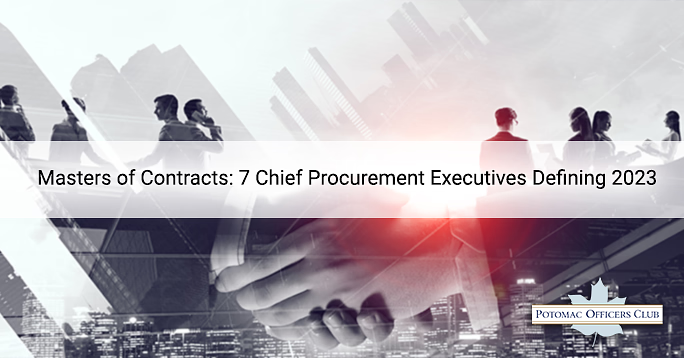 Masters of Contracts: 7 Chief Procurement Executives Defining 2023
To unlock success in their missions and initiatives, companies in the realm of government contracting rely on securing agreements from federal agencies. Spearheading these mission-critical deals and positioning their companies as prime government contractors are dedicated executives working behind the scenes.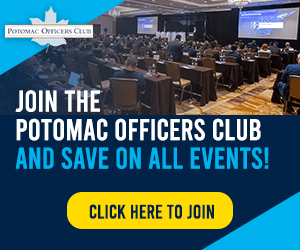 Presenting a notable lineup of contracts and procurement executives, this list acknowledges their instrumental role in their companies' contract acquisition processes throughout 2023. 
Note: 

The following list features esteemed industry leaders selected based on a comprehensive evaluation of their accomplishments, including their strategic vision, demonstrated impact on the industry, innovative contributions, and leadership prowess. However, this is not an exhaustive list. The industry is filled with talented professionals making significant contributions, warranting close attention for their achievements and potential impact.
Kim Denver, Senior Vice President of Corporate Contracts and Procurement & Pricing at Leidos
Photo of Kim Denver at LinkedIn
Kim Denver joined Leidos Holdings Inc. in 2013 as the Senior Vice President of Corporate Contracts, kickstarting his career in contracts and procurement. In 2014, Denver took charge of the Procurement and Pricing division.
With over 20 years of competence in contract procurement prior to joining Leidos, Denver has demonstrated exceptional competence in the field. As the Senior Vice President of Leidos' contracts and procurement segment, Denver contributed to the successful acquisition of an $82 million contract aimed at identifying, detecting, and defeating small enemy, uncrewed aircraft. Additionally, Denver was instrumental in acquiring an $11.5 billion contract for modernizing and supporting various mission services focused on user experience, security, and network reliability.
JoAnne Dukeshire, Vice President of Contracts & Subcontracts at ManTech
Photo of JoAnne Dukeshire from George Mason University
JoAnne Dukeshire, the Vice President of Contracts and Subcontracts at Mantech since 2021, brings extensive expertise in government contracting. She has acquired valuable knowledge through her previous vice presidential roles at Lockheed Martin, Perspecta, and Peraton, and as a contract compliance specialist at the office of the City of Phoenix.
Dukeshire's strong points as a contract procurement executive are her team leadership, contract monitoring, management, and financial and performance auditing. During her tenure, ManTech achieved a significant milestone by securing a  recompete contract worth $28 million for the Naval Surface Warfare Center (NSWC)'s Towed Acoustic Sensor program. Under the contract, ManTech will provide digital and intelligent system engineering capabilities to test and fine-tune the Navy's vessel-towed sensors.
Sandra Hinzman, Senior Vice President of Contracts and Pricing at SAIC
Photo of Sandra Hinzman at LinkedIn
Sandra Hinzman has been a prominent figure in contracts and procurement at Science Applications International Corporation (SAIC) since April 1992. She initially served as the Director of Contracts until January 2018 when she transitioned to the role of Senior Vice President of Contracts and Pricing.
In her current position, Hinzman oversees all of the contractual aspects of SAIC's proposal submissions and program administration operations. Recently, SAIC secured a potential five-year contract valued at $889 million. The contract will support the Defense Counterintelligence and Security Agency's One IT modernization initiative.
Sandra Hinzman's expertise and insights into the procurement process and essential contract functions were shared during a GovCon Wire panel held on April 15, 2021. In addition to her leadership role at SAIC, she is an active member of the National Defense Industrial Association and the National Contracts Management Association.
Kevin McCann, Vice President of Contracts at BAE Systems
Photo of Kevin McCann from potomacofficersclub.com
Kevin McCann, the current Vice President of Contracts at BAE Systems, joined the company in 2021. In his current position, McCann assumes responsibility for directing the company's international operations, including policy formulation, and professional development activities.
With a career spanning over 20 years, McCann possesses extensive expertise in contracts, subcontracts, scheduling, independent cost estimating, earned value management, and finance and business operations. His prior experiences at Raytheon Technologies, Lockheed Martin, Leidos Inc., and Parsons Corporation have equipped him with skills to develop and implement effective contract management structures across various markets, products, and segments.
Terry Ward, Vice President of Contracts and Supply Chain Management at BAE Systems 
Photo of Terry Ward at LinkedIn
Terry Ward, an executive at BAE Systems, is a specialist in government contracting functions. He has served as the defense company's Vice President of Contracts and Supply Chain Management since 2018.
In his current role, Ward oversees BAE Systems' Intelligence and Security (I&S) business segment. This sector is a prime provider of large-scale systems engineering, sustainment, and integration solutions for land, air, sea, space, and cyber domains. Ward was instrumental in helping BAE Systems' I&S segment earn an impressive average annual revenue of $1.7 billion.
Ward possesses 35 years of valuable experience in government contracting, finance, compliance, and business management. He shared insights into supply chain management during the Capital Region Minority Supplier Development Council event held in 2018, emphasizing the significance of collaborating with smaller businesses. Ward highlighted that this collaboration strengthened BAE Systems' supply chain segment, fulfilled client demands, and created new jobs that bolstered the national economy.
Howard Porter, Corporate Director and Senior Vice President of Contracts at CACI International
Photo of Howard Porter from WashingtonExec.com
Howard Porter has been a crucial member of CACI International's government contracting segment, making significant contributions since joining in 1999. Beginning his tenure as Vice President of Contracts for CACI's Federal business segment, he quickly established himself as a capable leader. 
Over the span of 24 years Porter has successfully navigated the complexities of his vice-presidential role, demonstrating unparalleled expertise in contract management. In 2018, he was promoted to the position of Corporate Director and Senior Vice President of Contracts at CACI International.
In addition to his legal background, boasting over a decade of experience as a lawyer, Porter adeptly combines his legal knowledge with his current responsibilities in government contracting. His strategic focus lies in leveraging technological advancements to optimize CACI's processes, minimizing manual and repetitive tasks, streamlining operations, and promoting business scalability for securing federal contracts.
Chris Wolf, Senior Vice President of Contracts and Procurement at The Louis Berger Group Inc. 
Photo of Chris Wolf at LinkedIn
Christopher "Chris" Wolf is the current Senior Vice President of Contracts and Procurement at The Louis Berger Group Inc., a full-service engineering, architecture, and construction firm based in New Jersey. Wolf has held his current position since 2012 and is responsible for the company's competitive strategy, contractual obligations, and risk reduction activities.
Wolf gained his contracting knowledge from assuming leadership roles handling federal contracts at BAE Systems, Deloitte, and Booz Allen Hamilton. He has over 30 years of experience in government contracts and a demonstrated competence history in managing contracts, pricing, and subcontracting administration activities.
Earlier in his career, Wolf managed the $400 million Trilogy TNC/IPC program; he oversaw the Federal Bureau of Investigation's (FBI) upgrade to newer information technology infrastructure as a response to the aftermath of the 9/11 attacks.